What a year 2018 was! So many ups and downs like is the case for any other calendar year anyway. The landslide victory of a musician in a by-election that was held in June 2017 is something that is hard to ignore especially because that particular incident's impact spilled over into 2018. Since Robert Kyagulanyi better known by his stage name Bobi Wine was declared MP of Kyaddondo East, he's made waves in and out of the country for good and bad reasons depending on which side of the fence you are standing. It is no surprise that he regularly featured in the news in 2018.
At the end of 2017 he released "Freedom" in protest against a constitutional amendment that proposed the removal of the presidential age limit of 75, making President Yoweri Museveni, who has been president since 1986 and will be above 75 when the next elections in 2021 are held, eligible to contest. Uganda Communications Commission banned the song from getting any airplay on both TV and radio stations. The artist turned MP known for pushing the envelope when it comes to political and social issues was in August 2018 arrested and detained by security forces for possible charges of unlawful possession of firearms and incitement of violence charges that were later withdrawn.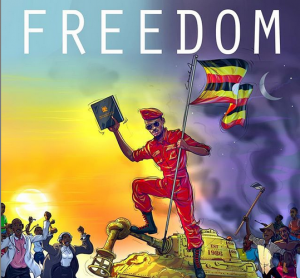 For all his low-lights in 2018 especially his alleged torture after his arrest, the self-styled "Ghetto President" has something to smile about. At the end of the year, he was named 2018
Africanews
Personality of the Year beating Rwandan president Paul Kagame and Ethiopian Prime Minister Abiy Ahmed and the Ebola respondents in the Democratic Republic of Congo. The award is primarily an audience-led process in choosing the most influential news maker over the course of the news year. A few days before this though, something extremely huge happened for the Bobi Wine brand.
On 27 December, 2018, at Pegasus Hotel in Kingston, Jamaica, it was announced that Bobi Wine would be on the line-up for the 26th edition of one of Jamaica's biggest and longest running festivals; Rebel Salute, that will be held on 18th and 19th January. Rebel Salute that has been held annually since 1994 is a festival that is known for its musicultural vibration. It celebrates rootsy and conscious music and for the last 25 editions it has not strayed away from that. It's held in mid January around the promoter's (Tony Rebel) birthday on January 15th. The event has evolved from an annual one night birthday party to a globally recognised cultural event that now happens over two days and promotes reggae consciousness and livity (a Rastafarian concept of living righteously).
Rebel Salute organiser, the legendary Tony Rebel who many Ugandans know for his classic 'If Jah', put out a 14 second video to announce that Bobi Wine will be on the line-up on social media. He will share the same stage on the opening day, 18th, with Dawn Penn of the "No, No, No (You Don't Love Me)" fame, The Wailers, Wailing Souls, Luciano, Third World's Cat Coore, Wayne Wonder, Mighty Diamonds, Ken Boothe, Half Pint, Bounty Killer, Yellowman and new teenage sensation Koffee who was introduced on stage by Cocoa Tea at last year's event.
This is a huge thing for the musician, who will be the first Ugandan to grace one of the biggest, if not the biggest, music events in Jamaica; REBEL SALUTE. It is a sign that his work over the last couple of years has caught the eyes and ears of many. It is quite monumental for Uganda as well seeing as the Ugandan flag will fly high at an event that attracts the largest number of tourists than any other music festival in Jamaica. In 2013, the Jamaica Tourist Board (JTB) did a survey at Rebel Salute, which came up with the result that over 38 per cent of the population was people who flew in for the festival.
Quick fun fact: The dancehall performers at Rebel Salute use their birth names instead of their stage names and according to Tony Rebel, this gives them the opportunity to show their "good side". So basically,Jamaica will watch Robert Kyagulanyi Ssentamu perform at Rebel Salute. Moses Ssali, over to you.
---
Reader's opinions
---