Jennifer Lopez says coronavirus quarantine has affected her wedding plans
Written by Rev Noni on April 8, 2020
50-year-old music superstar, Jennifer Lopez has revealed that being under coronavirus lockdown has affected her upcoming wedding. This revelation was made in an interview with Ellen DeGeneres. Jennifer Lopez, Alex Rodriguez, and their four children have been at home in self-quarantine for a few weeks now due to the outbreak of the novel coronavirus.
"I've been on the run for the past few years that it's nice to be home," she told Ellen Degeneres during a video chat interview on Tuesday. I planned to take a bit of time off after the whole Super Bowl thing and filming 'World of Dance.'"
She went on to say that these are terrible and scary times but also added that it feels nice to reconnect with the family and she is making the best of it.
"It did affect (the wedding) it a little bit but we will see what happens now," Lopez replied. "I really don't know what's going to happen now as far as dates. We're in a holding pattern like the rest of the world. Again, we're just going to wait and see how this whole thing is gonna span out."
Ellen Degeneres suggested a TikTok wedding at home saying they can have a big one later to which J.Lo simply laughed and said she'll consider it.
In the interview, Lopez also talked about her new show "Thanks a Million," the SuperBowl, and donating one million meals to Feeding America. Watch full interview below:
https://youtu.be/t6ugaHl_vps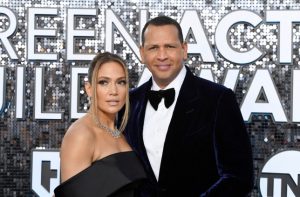 ---
Reader's opinions
---