Now that staying home and social distancing is our new normal, we can no longer make any plans to party at our favorite spots with friends. While you may not be able to go out as you had planned, there's no reason to skip the party feeling altogether.
As Uganda's home of BIG HITS, we are here to keep you as entertained as possible and we have introduced a daily party segment for this quarantine period called the DJ Moment.
Here, we host your favorite DJs to mash it up and get the party going live on air while you dance and vibe along at home. The line up has been crazy so far with DJs EdWizzy Selecta, VJ Esau, DJ Alza, DJ Kathy, DJ Gero, and DJ Naselow coming through.
The DJ moment is designed to be the daily dose of fun that lifts your spirits and puts you in the party mood during this quarantine. The #NXTDJMoment is a celebration of DJs who are an essential part of the UG social and entertainment life. The DJ moment gives them an opportunity to showcase their skills and keep their thousands of fans entertained every day on Nxt Radio.
As we all stay locked away in this quarantine, the DJ moment is the ultimate stage for DJs to make their mark.
The #NXTDJMoment will continue throughout the quarantine period between 9 AM to 11 AM on weekdays, 12 PM to 4 PM on Saturdays, 1 PM to 4 PM on Sunday with another coming on Sunday evening at 6 PM. Daily shows will not be affected by the DJ Moment.
Just because you're home doesn't mean you can't dance to your favorite DJs mixes while you party in your PJs. Put aside the tables and chairs, tune in to 106.1 FM, turn up the volume and GET READY TO PARRRTTYYYYYY!!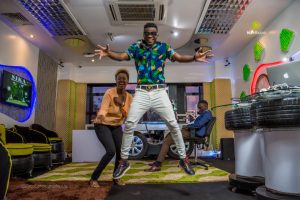 ---
Reader's opinions
---