karitas karisimbi / #NxtMorningZoo
Ms karitas karisimbi is a single mother of 10yr old amazing twin boys. I wear my smile most of the time, love people, and find myself constantly looking out for them. I talk for a living and continue it outside. Hair and nails fascinate me a lot and keep teaching myself more about them.
At Next Radio, I host the 'Rude Awakening ' which is the breakfast show. On the show, I make sure I bring laughter and honest mature opinions.
My mantra is to give everything you put yourself into 199.9%.
Apart from Radio, I host @thechatroom which is a human interest show airing on NBS TV every Sunday at 8 pm. I am constantly creating content. I also do philanthropy work, MC gigs, voice-overs, and ambassadorial roles.
Catch you in the morning!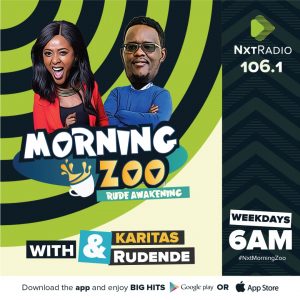 ---