ALLAN CHILDREN'S FOUNDATION RECEIVES YOUTUBE CREATOR AWARD            
The Wakiso based NGO Allan Children's Foundation has scooped Youtube's Silver Creator Award after surpassing 100000 subscribers on Youtube. The Silver Creator Award, is given to channels that reach or surpass ten thousands subscribers. It is made of Silver-plated brass.
Since March 2018, the look of the Silver Play Button was updated from a metal button housed within a window box with the channel's name printed on the front glass pane to a cleaner-looking flat designed metal plaque award featuring the channel's name embossed on it.
The founder of Allan Children's Foundation, Allan Kato who couldn't contain his excitement made the revelation on the foundation's social media pages on Saturday.
"Thank you so much @youtube for 100k+ subscribers 🫶🏼 we still can't believe that it's actually happening 🥹
Since the day we started our channel, we had always dreamt of this moment, and now it's finally becoming a reality. So, cheers to reaching our first milestone, with more to come 🥂
We're always grateful for the love and support you all have shown ❤️
Thank you @youtube for making this possible!"
About Allan Children's Foundation
Founded in 2019 by Allan Kato, the Allan Children's Foundation has consistently shown its commitment to nurturing and empowering disadvantaged children. The foundation's comprehensive approach encompasses vital aspects such as education, nutrition, healthcare, and a supportive environment. The foundation's ambitious project seeks to build a spacious residence for 150 orphans, offering them a secure place to flourish. In June 2023, the foundation initiated a GoFundMe campaign with a target of raising $70,000 to renovate the current orphanage facilities in Wakiso.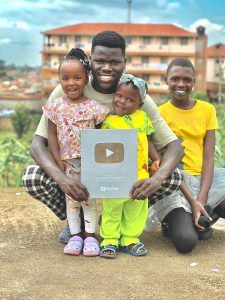 About YouTube Creator Awards:
YouTube's Creator Awards, commonly known as YouTube Play Buttons, are a series of gifts from YouTube that aim to recognize its most popular channels. They are based on a channel's subscriber count but are offered at the sole discretion of YouTube. Each channel is reviewed before an award is issued, to ensure that the channel follows the YouTube community guidelines.YouTube reserves the right to refuse to hand out a Creator Award, which it has done to select channels with horror or political content as well as various critics.
---
Reader's opinions
---